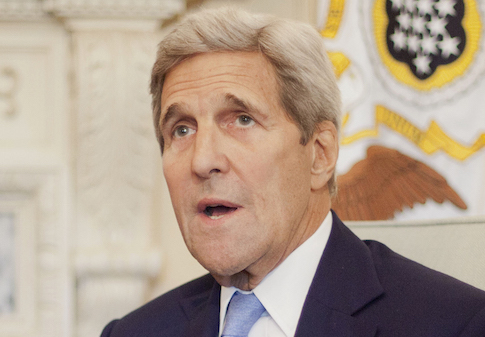 Today, Secretary of State, longtime hack politician and a guy who married into a fortune, John Kerry, spoke to reporters at the U.S. Embassy in Paris after meeting with French president Francois Hollande. Stupidly, but unexpectedly for him, Kerry said,
"There is something different about what happened from Charlie Hebdo, and I think everybody would feel that there was a sort of particularized focus and perhaps even a legitimacy in terms of - not a legitimacy, but a rationale that you could attach yourself to somehow and say, 'Okay, they're really angry because of this and that.' This Friday was absolutely indiscriminate."
Charlie Hebdo is not a man. Charlie Hebdo is a secular French satirical weekly magazine.
Pro-Islam, Pro-Sharia Law muslims murdered 12 workers of Charlie Hebdo, including the editor Stéphane Charbonnier after publishing cartoons
depicting Muslims.
Of course, the
"this and that"
amounted to living as secular Frenchmen in a secular country. And in Kerry's mind, the
"legitimacy"
is an excuse for crazed Muslims murdering Frenchmen who refuse to submit Islamism in their own native France.
As Obama's secretary of state, with such amazing stupidity as believing pro-Islam, pro-Sharia law muslims, are
"indiscriminate,"
it is little wonder ISIS had been winning in Iraq and Syria until Putin and his Russian air force took command.
With his kind of retarded thinking, John Kerry should quit America and go live in the Islamic State.